Fantastic reception at DesignBUILD 2016!
What a week! Our heads are still spinning after a whirlwind week at DesignBUILD expo. We were blown away by the fantastic response that we received from visitors at our stand. The way that we were able to integrate our product into a residential setting made more than a few home owners jealous. Not only did the stand look great but the experience for the Pixalux Manufacturing team of designing and building the stand using the Pixalux structural light panel has provided us with so many exciting new ideas for further Pixalux applications.
So much interest!
The Pixalux team were inundated with people visiting the stand who were blown away by the sheer innovation of the product.
Custom display table
We designed a custom display table to frame our stand that utilised Pixalux for the sides and top surface. We're taking this one back to the office for our tracing table and makeshift mojito bar!
Pixalux floating shelves
We used Pixalux structural light panels as open shelving at the end of our bench space. This application is suitable for residential, commercial or retail.
Not your average wardrobe...
An entire wardrobe was fitted with Pixalux structural light panels. Throw in a soft on/off switch with the door and you'll never need to wake your partner in the morning again.
Angled shoe shelves
These angled shelves are great for displaying shoes and other bespoke objects. Whilst the setting is residential, we think this would truly stand out in a retail environment.
Pixalux illuminated clothes hangar
You'll never pick the wrong coloured shirt again if you illuminate your wardrobe with a Pixalux structural light panel.
Illuminated drawers
As a novelty we illuminated the base of these drawers which switched on automatically upon opening. Many visitors envisaged this as a private or retail jewelry display application.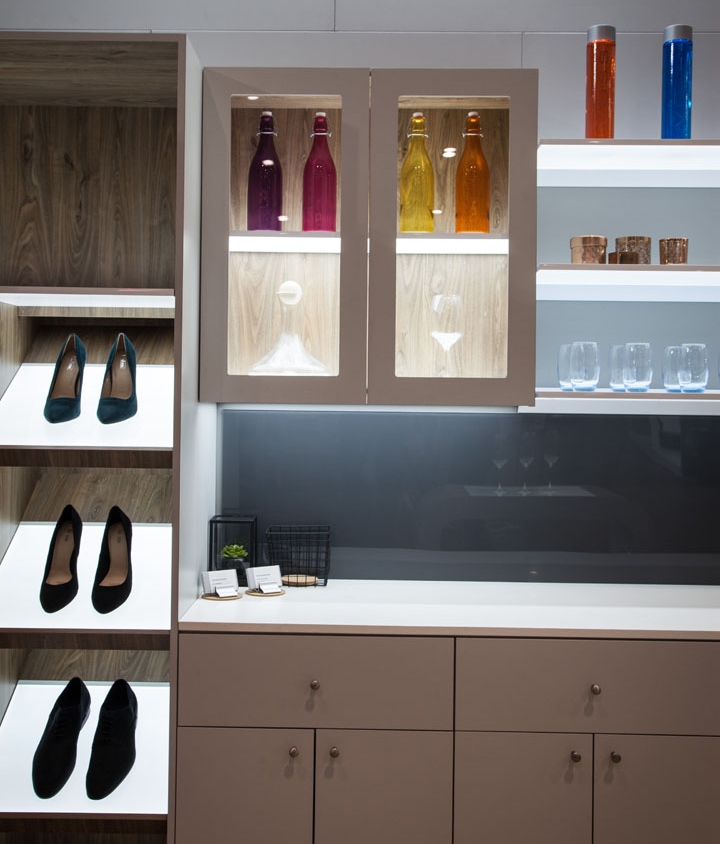 Integrated overhead cabinet
Pixalux structural light panels were fully integrated into this overhead cabinet for a seamless lighting solution. Seamless integration was achieved by rebating the side and back walls of the carcass so that the Pixalux structural light panel simply slid into place.
Pixalux Designbuild stand
Check out our amazingly detailed representation of a residential space, fully outfitted with Pixalux structural light panels.